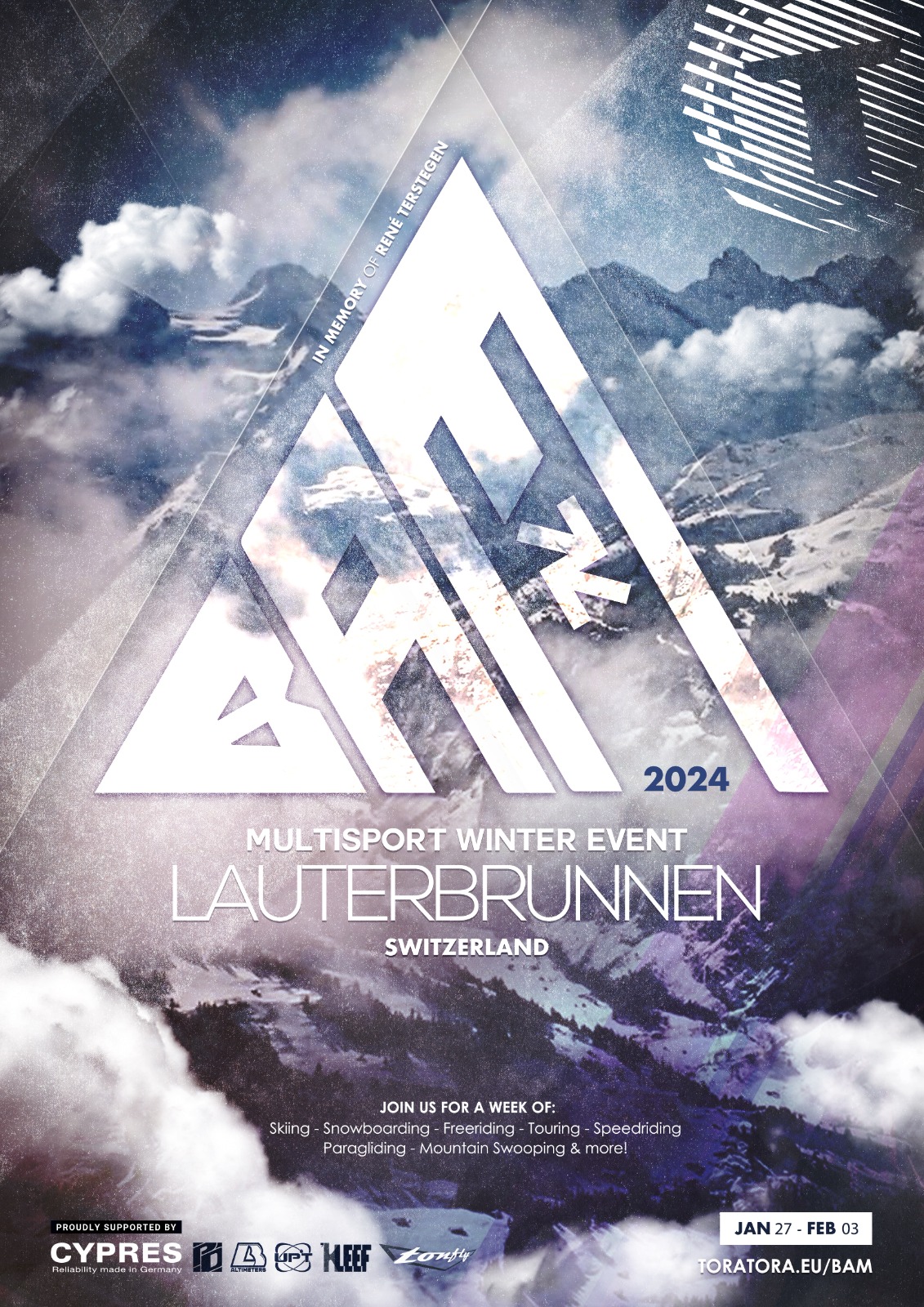 BAM
formerly known as ToraTora On Ice
27 Jan – 3 Feb 2024



Lauterbrunnen, Switzerland
Registration opens on Thursday 7 Sept 20:00 CET 
We invite you to join us in the mountains around Lauterbrunnen, one of the most stunning places on earth. Our basecamp is a cosy hostel in the valley which we have all to ourselves. From there we go freeriding, tourskiing, speedriding, splitboarding, paragliding, heli-skiing, skydiving, mountain swooping, you name it. We organise all kinds of courses and workshops that you can join, or you can go play for yourself. We all return to the hostel to have dinner together and watch footage from each others adventures in the bar (you should try our house cocktail, the ToraTora ON ICE!).
Can I join?
The answer is yes. Anything you can't do yet, you can learn. Some activities are conditional. For example, you have to learn how to ski before you can learn how to freeride or speedride. If you don't have your own equipement, you can rent that with us.
Setup
You decide your own program. One option is to just join us for the cosy breakfasts, dinners, day videos and parties and go play in the mountains by yourself. You can also choose to join one or more of the courses and workshops that we offer. We have a team of local ski, snowboard, paraglide and speedride experts and mountain guides at our disposal during the week.
Saturday is arrival day. On Sunday we start with a welcome meeting over breakfast where we discuss the week program. Apart from the optional workshops and courses, we offer a few group activities which everyone can join. The first one is a safety seminar and avalanche beacon exercise on Sunday afternoon. Others are a mountain top champagne brunch and a fondue night with the already infamous Sledge Extravaganza. The final evening party is Friday and Saturday is departure day. A 6 day skipass for the whole Jungfrau region is included for Sunday to Friday.
Program
Check out the program for more info on the various activities.
Accommodation
Alpine Base Hostel is our basecamp. We have 2-person and 4-person rooms, a restaurant and a bar. Every day we serve breakfast and dinner at the hostel. Lunch can be prepared as a lunch package to enjoy on the mountain (or in the hostel).
Travel
Trains go all the way to Lauterbrunnen (from Basel, Zurich and from Germany and Austria). We'll give you some more travel advice after you sign up.
Price
Standard package – 1130 EUR
The Standard package includes:
accommodation
6 day skipass
3 meals a day
avalanche safety course
fondue night & Sledge Extravaganza
tourist tax

Not included:
– travel to Lauterbrunnen
– insurance covering mountain sports
– drinks
– extra courses and activities
Payment
After you fill out the registration form, you will be asked to pay a 500€ deposit to secure your slot. This deposit is non-refundable. The remaining amount can be paid before or on arrival. The final price is based on the EUR-CHF exchange rate and might therefore fluctuate a little.
To reserve your slot you need to agree to our general booking conditions.