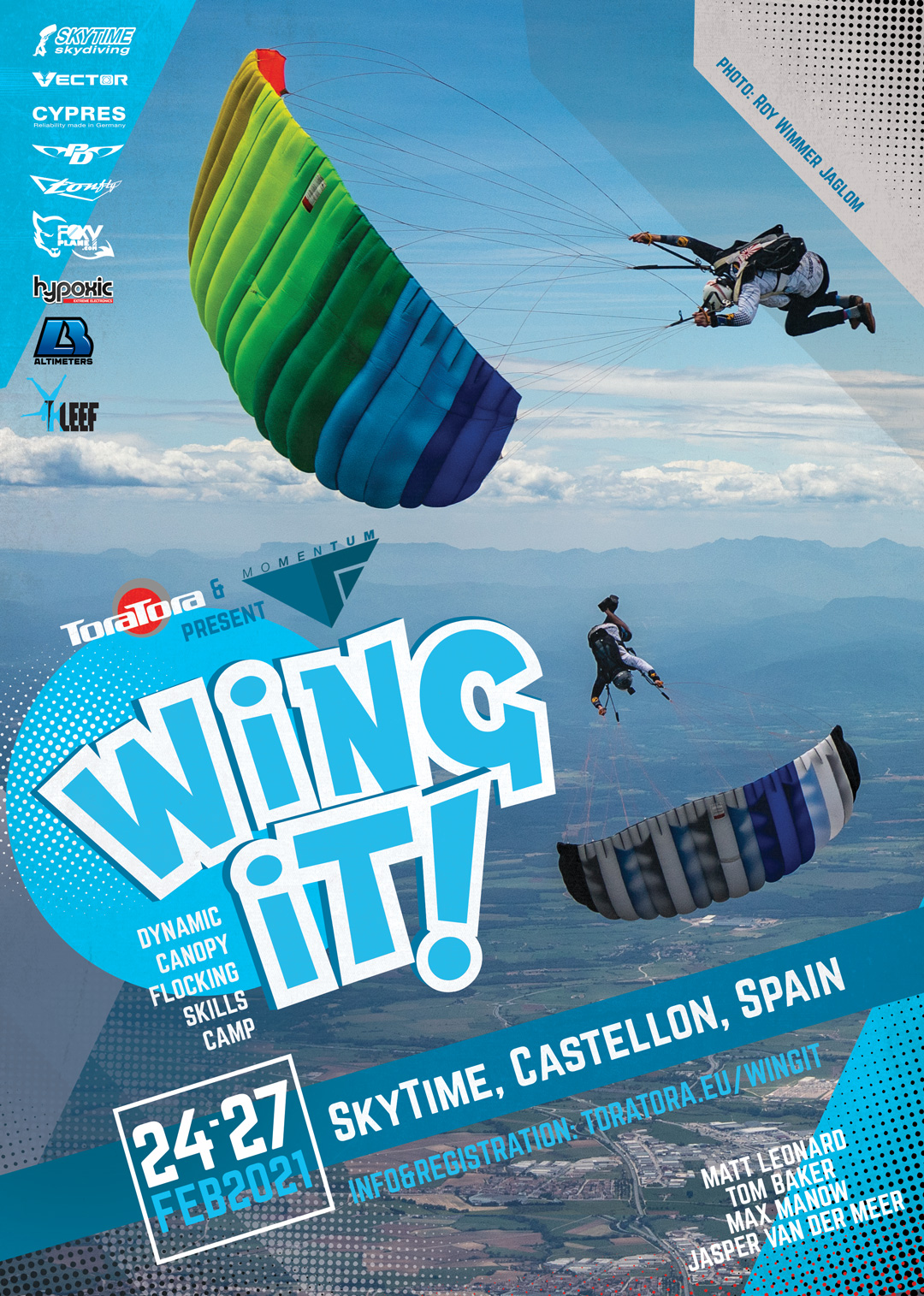 ToraTora & Momentum present:
Wing It!
SkyTime Castellon, Spain

This event has been postponed to a later date. As soon as the Covid situation calms down a bit, we will set a new date for this event. Sign up for our mailinglist to get updates.
A 3-day canopy flocking skills camp, focused on dynamic flying in small groups (6-ways / 3-ways). For this event we've partnered with the Momentum team as we have been training these types of jumps together with Matt Leonard over the past years and because they already have experience running dynamic canopy camps in the US.
For this camp we expect you to have at least some static canopy flocking experience. Nevertheless, we'll start the first day with some basic knowledge and exercises for static formation building before moving on to flights with more movement. Other requirements are:
– Minimum 500 jumps on a cross braced wing and/or reference from a reputable canopy coach
– WL between 2.2 and 2.9
– Must demonstrate heading control and location awareness while retrieving full RDS
– Must demonstrate a safe and stable approach to a high performance canopy
– Must demonstrate the ability to maintain quadrant specific slot
– Must be disciplined about break off, landing order & separation
Price
1045 EUR
Includes 15 jump tickets, 4 nights hotel (shared 2p room), shared rental car / airport pickup, 3 meals a day. Through the registration form you can upgrade to a single room or opt out of hotel / rental car.
Coaches
Matt Leonard
Tom Baker
Max Manow
Jasper van der Meer
Each load will also have an outside camera flyer.
Travel
You can drive or train to Castellon (Spain has great trains!) or fly to Valencia (VLC). We'll arrange a shared rental car or pickup for you. Arrival at the DZ latest Wednesday 24 February 17:00 for paperwork and an extensive briefing, so that we are ready for take off with the first load on Thursday. Departure on Sunday (or stay another week for Winter Paradise!).
Location
SkyTime in Castellon is one of the few European dropzones where the weather is often kind in winter and it's the second home of the famous Foxy Plane, a fast Supervan with extraordinary pilots. The DZ offers stunning ocean views and a choice between grass or beach landings. The 4-star hotel which is included in the camp is right next door and serves us three meals a day.
To reserve your slot you need to agree to our general booking conditions and pay a 500€ deposit. Part of this deposit is non-refundable. If the Covid-19 situation forces us to cancel the event, we'll give you the option to get a full refund or save your deposit on account for a future event. If your own situation prevents you from attending the event due to Covid-19, we keep your deposit to cover the cost for coaches, but we'll refund all other payments you might have made to us for this event.