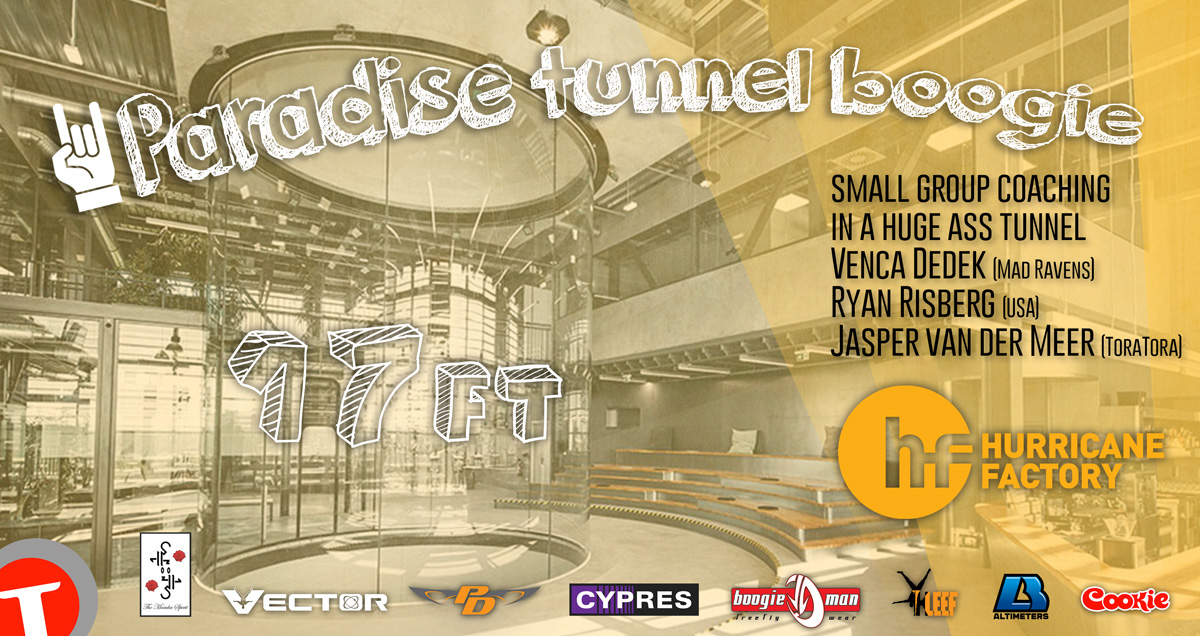 Paradise Tunnel Boogie 2017
Two days of small group coaching in a huge ass tunnel: the new 17 foot Hurricane Factory in Berlin, Germany!
December 15&16
Coaching by:
Venca Dedek
Ryan Risberg
Jasper van der Meer

Registration
650€ = 2 hours of coached flying, music, drinks, huckjams, sharing memories and making new friends. The boogie is Friday Dec 15 and Saturday Dec 16. First flight at 12:00pm on 15/12.
Coaching
The coaching setup is 1-on-3: one coach is in the tunnel with 3 participants. For flyers that have the level, this means 4way dynamic (D4W) and/or vertical/sequential (VFS) flying at any level (from beginner to competition divepools).
If you can't take a dock in head-up, fly head down, carve and/or fly layouts (low speed or high speed), there is still a lot of fun stuff we can do in a 4way, specially because it's such a large tunnel. But we can also split the group from time to time and do some 1-on-2 / 1-on-1 coaching. In this last case you'll fly a bit less than 2 hours but you'll be able to learn a lot.
Can I join?
This event is for all levels: we've added the option for 1-on-1 and 1-on-2 coaching as well, so you can now sign up even when you're a beginner in the tunnel. Depending on your level, you get 1-on-1 coaching and/or share a coach with one or two other flyers. The 17 foot tunnel is absolutely HUGE, so even doing 1-on-1 coaching, we'll often be able to coach two people with two coaches at at the same time. This way everyone will get to fly between 1 and 2 hours with coaching.
Practical
The tunnel is right next to the airport. There's a few affordable accommodation options nearby, we'll send you more info per email when you sign up and we'll try to all stay around the same place.
We'll have a small party in party capital Berlin of course so don't fly out too early on Sunday, or just go straight from the club to the airport…
Payment
After filling out this form you will get a payment request for 650€. Depending on your level, we let you share time with others that are working on the same thing. There is always a coach present to brief you and help you, but don't expect video debriefing on every session. It's a boogie, after all.
Extra coaching
Extra (1-on-1) coaching can be booked right before or after the event, depending on availability.
If you have any questions, feel free to contact us. We're happy to help!
Your registration fee is not-refundable, but you can give/sell your slot to someone else in case you need to cancel.
Click here for the facebook event page.
Or here for the cancellation terms.