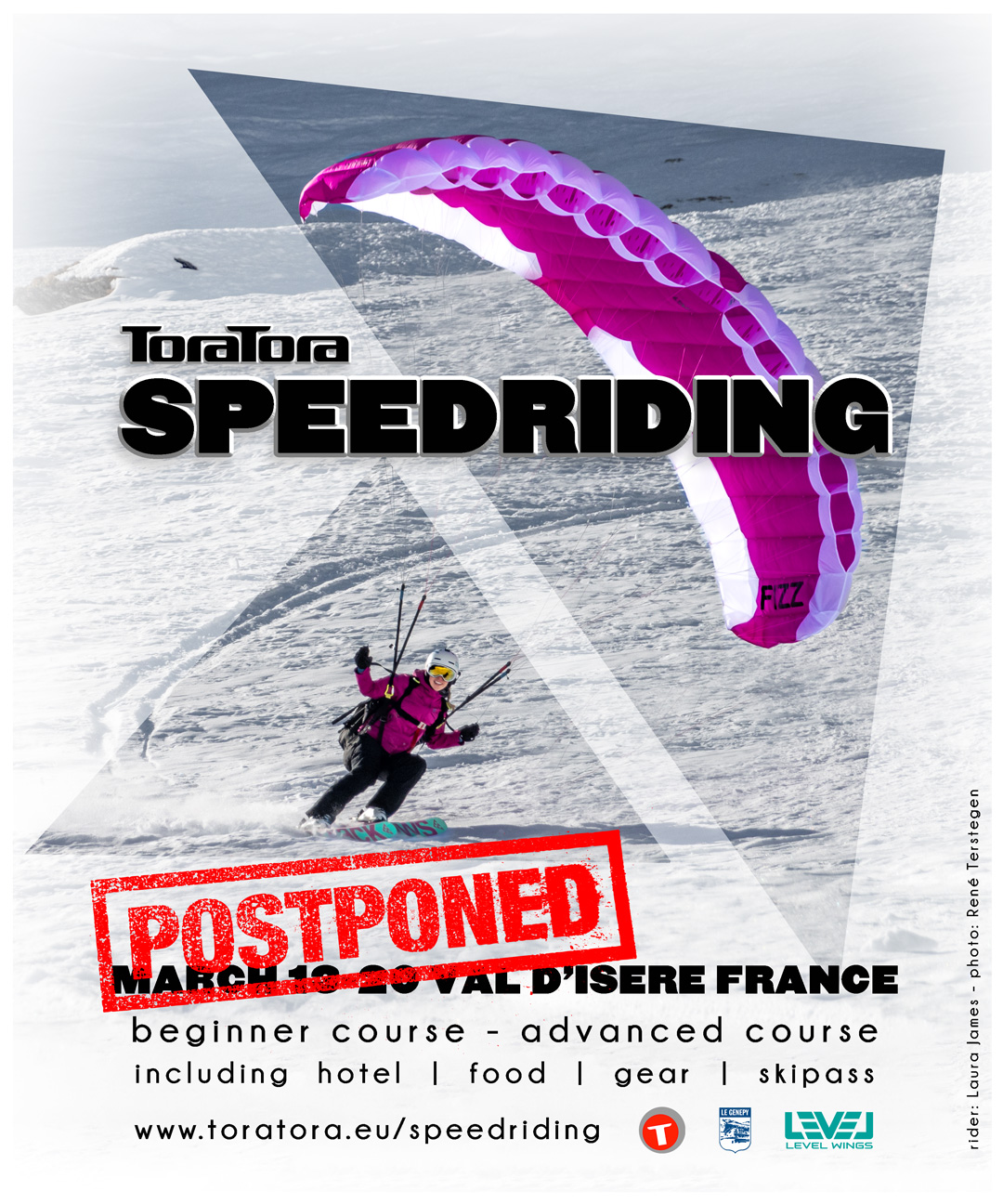 Tignes / Val d'Isere, France
Postponed until 2022
Ever since the conception of ToraTora in 2005, we have been dreaming of organising speedriding trips (called groundlaunching back then). And here we are, finally launching our first speedriding course and hoping to make this a yearly tradition.
What to expect
Our goal is to offer a speedriding week for all levels – from total beginners to experienced flyers – with professional instruction and in a cosy social setting like you are used to from us. You can choose between a 5-day beginner course or advanced course, or just come join the fun and fly independently.
Base camp
Hotel Genepy is our cosy base camp hotel, owned by our Dutch friends. Standard registration includes a shared 2p room with breakfast and dinner in the hotel. Hotel Genepy also has a cosy bar where we can hang out in the evenings to share stories and watch each other's footage of the day.
Instructors
We're working with one instructor for every four participants. All our courses are taught by a team of professional Level Wings speedriding instructors lead by Francois Bon himself. Francois is one of the true pioneers of speedriding who has helped to develop the sport over the past 20+ years. Who better to lead our courses?
Can I join?
To learn speedriding, you need to know how to ski. If you can ski down a red slope with ease and without falling, you can join our beginner course. A bit of off-piste experience comes in handy as well. You don't need any flying / paragliding / skydiving experience. Anyone with five or more days of speedriding experience can join our advanced course. The fact that we're working with one instructor for every four participants allows us to be flexible and coach people at different skill levels. If you are doubting about your skiing or flying level, contact us!
Program
The event runs from Saturday (arrival day) to Saturday (departure day). The courses start on Sunday with 5 instruction days and one weather reserve day.
Payment
In the start of 2021 you will be asked to pay a 500€ deposit to secure your slot. Part of this deposit is non-refundable. The remaining amount should be paid latest one month before the start of the event.
To reserve your slot you need to agree to our general booking conditions. If the Covid-19 situation forces us to cancel the event, we'll give you the option to get a full refund or save your deposit on account for a future event. If your own situation prevents you from attending the event due to Covid-19, we keep your deposit to cover the cost for coaches, but we'll refund all other payments you might have made to us for this event.
Beginner Course
€ 1690,-
This includes:
– 6-day skipass Tignes&Val d'Isere (worth 315€)
– shared 2p room in our cosy base camp hotel (Sat-Sat)
– 7 days breakfast & dinner
– speedride licence & insurance (mandatory)
– 5 days professional instruction
– speedriding gear rental
– speedriding photoshoot
– option to try Level Wings demo gear
– option to buy gear at a special discount
Extra options:
– ToraTora minibus roadtrip NL/BE – Tignes v.v. 130€
– skis & boots rental 85€/week
– single room upgrade 210€/week
Advanced Coaching
€ 1690,-
This includes:
– 6-day skipass Tignes&Val d'Isere (worth 315€)
– shared 2p room in our cosy base camp hotel (Sat-Sat)
– 7 days breakfast & dinner
– speedride licence & insurance (mandatory)
– 5 days professional instruction
– speedriding gear rental
– speedriding photoshoot
– option to try Level Wings demo gear
– option to buy gear at a special discount
Extra options:
– ToraTora minibus roadtrip NL/BE – Tignes v.v. 130€
– skis & boots rental 85€/week
– single room upgrade 210€/week
Independent Rider
€ 1065,-
This includes:
– 6-day skipass Tignes&Val d'Isere (worth 315€)
– shared 2p room in our cosy base camp hotel (Sat-Sat)
– 7 days breakfast & dinner
– speedride licence & insurance (mandatory)
– speedriding photoshoot
– option to try Level Wings demo gear
– option to buy gear at a special discount
Extra options:
– ToraTora minibus roadtrip NL/BE – Tignes v.v. 130€
– rental speedriding gear – 250€ per week
– rental skis & boots – 85€ per week
– rental avalanche beacon/shovel/probe – 75€ per week
– single room upgrade – 210€ per week
Course or coaching only
€ 790,-
Including:
– speedride licence & insurance (mandatory)
– 5 days professional instruction (beginner or advanced)
– speedriding gear rental
– speedriding photoshoot
– option to try Level Wings demo gear
– option to buy gear at a special discount
No accommodation / skipass
Extra options:
– ToraTora minibus roadtrip NL/BE – Tignes v.v. 130€
– skis & boots rental 85€/week