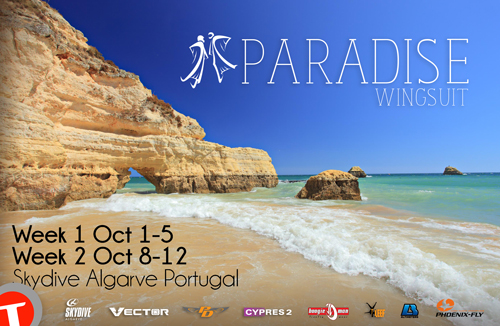 Wingsuit Paradise 2018
Big Is Beautiful
October 1-12
Skydive Algarve
4:1 ratio wingsuit skills camp for big suits
How it works:
The package includes 25 jumps per week (extra jumps can be bought on site). You get a group with 3 other flyers based on your experience and suit size and every group has a dedicated coach working hard to push your personal level as far as possible. Coaches switch groups every two days.
You're manifested with your group and your coach in the same plane for every jump. Together you can decide to do a 4-way + coach, to split the group into two smaller groups, or even do 1-on-1's. It works like this: if you jump 4-way + coach, all 25 jumps are coached. If you split the group for 2-way coaching, you get half your jumps coached and jump the other half in your 2-way with homework exercises. If you do only 1-on-1s, you do one coaching jump and then 3 homework jumps by yourself or with your other group-buddies. Together with your group and your coach, you can change this plan on a daily basis. After the 25 jumps, you can buy extra tickets and continue jumping with your coach.
We'll do our best to put you in a group with others that have similar levels and wishes, so you don't end up doing 1-on-1s when you actually wanted group jumps or the other way around. When you sign up with 3 of your friends, you can request your private group coach.
Confirmed coaches:
Scott Paterson
Sami Sucksdorf
XRW:
We'll have a dedicated XRW coach on site for groups that want to work on their XRW experience over the Portuguese coastline. Stunning photo's guaranteed!
Accommodation and travel:
The camp includes a shared rental car and a comfortable room in our beach front hotel. You can fly into Faro or Lisbon. Transport from both airports is included as well.
Rooms in the hotel are limited this year and are given out on a first come first serve basis. Once the hotel is full, we'll provide rooms in an alternative location not too far from the dropzone.
Bring your mom (or another non-skydiver)
Algarve is a fantastic place to hang out, even when you stay on the ground. You can bring someone to stay with you in your room and join the party's. You can book this through the sign up form.

For registration, go to the general Paradise Portugal event page.