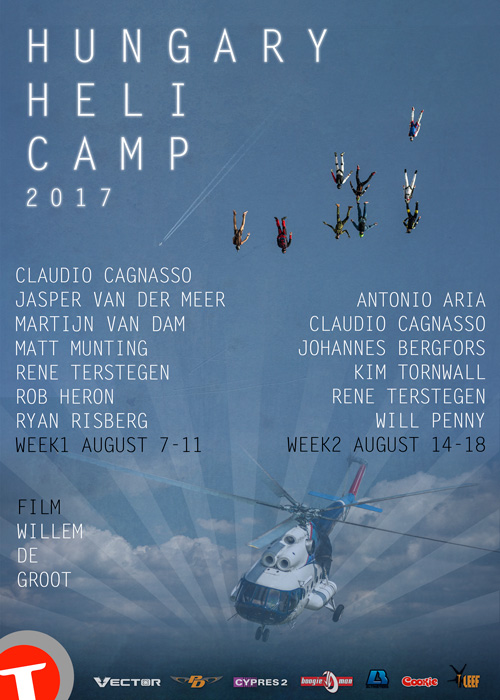 Hungary Heli Camp 2017
week one: August 7-11
week two: August 14-18
Push your skills in a week of dedicated coaching in a group. All jumps are made from the MI-8 helicopter!
This is an authentic skills camp. Your commitment is expected, that means: get up in the morning and join all the group jumps. You will be put in a group based on your experience and every group will have a dedicated coach that will work hard to push your personal level as far as possible, while focusing on safety and teamwork at the same time. You get to fly with different coaches during the week.
The 2017 Setup
Coaching in small groups was such a success last year, that we've decided to turn both weeks into small group-weeks. Don't worry, this still leaves the option to bring two groups together and fly a 10way with two coaches. Both weeks include accommodation, pickup & return Budapest, 3 meals a day and a massive party in Budapest on Saturday August 12.
Week One
4:1 ratio (one coach for a group of 4 participants)
5 days, 25 jumps
open to all levels
Week Two
5:1 ratio (one coach for a group of 5 participants)
5 days, 25 jumps
minimum 500 freefly jumps or 20 hours freefly windtunneltime to participate
if you don't have this level but really want to join week two, send us an email with your current experience and plans for the coming year

Coaches confirmed:
ANTONIO ARIA
CLAUDIO CAGNASSO
JASPER VAN DER MEER
JOHANNES BERGFORS
KIM TORNWALL
MARTIJN VAN DAM
MATT MUNTING
RENE TERSTEGEN
ROB HERON
RYAN RISBERG
WILL PENNY
The location
Skydive Balaton is one of Europe's most professional dropzones. The two MI8 helicopters are the best we've ever seen, the DZ is huge and flat, the view over lake Balaton is stunning and the rooms are comfortable. Accommodation in a 2 person room is included, as is breakfast, lunch and dinner.
The camp includes:
– lodging at the DZ in a 2 person room
– 25 coached group jumps (more jumps possible weather permitting)
– 3 meals a day
– Budapest pickup and return service
– a massive party on Saturday August 12
You can sign up for both weeks with a 76€ discount on the second week.
The standard rooms are at the DZ area, with shared toilet and shower facilities. You can upgrade to a deluxe room at the restaurant area with private bathroom as long as they're available. You should arrange your own transport to and from Hungary. We provide a pickup and return service for those who fly or train into Budapest.
To reserve your slot you'll need to pay a deposit of 500 € and agree to our GENERAL BOOKING CONDITIONS.