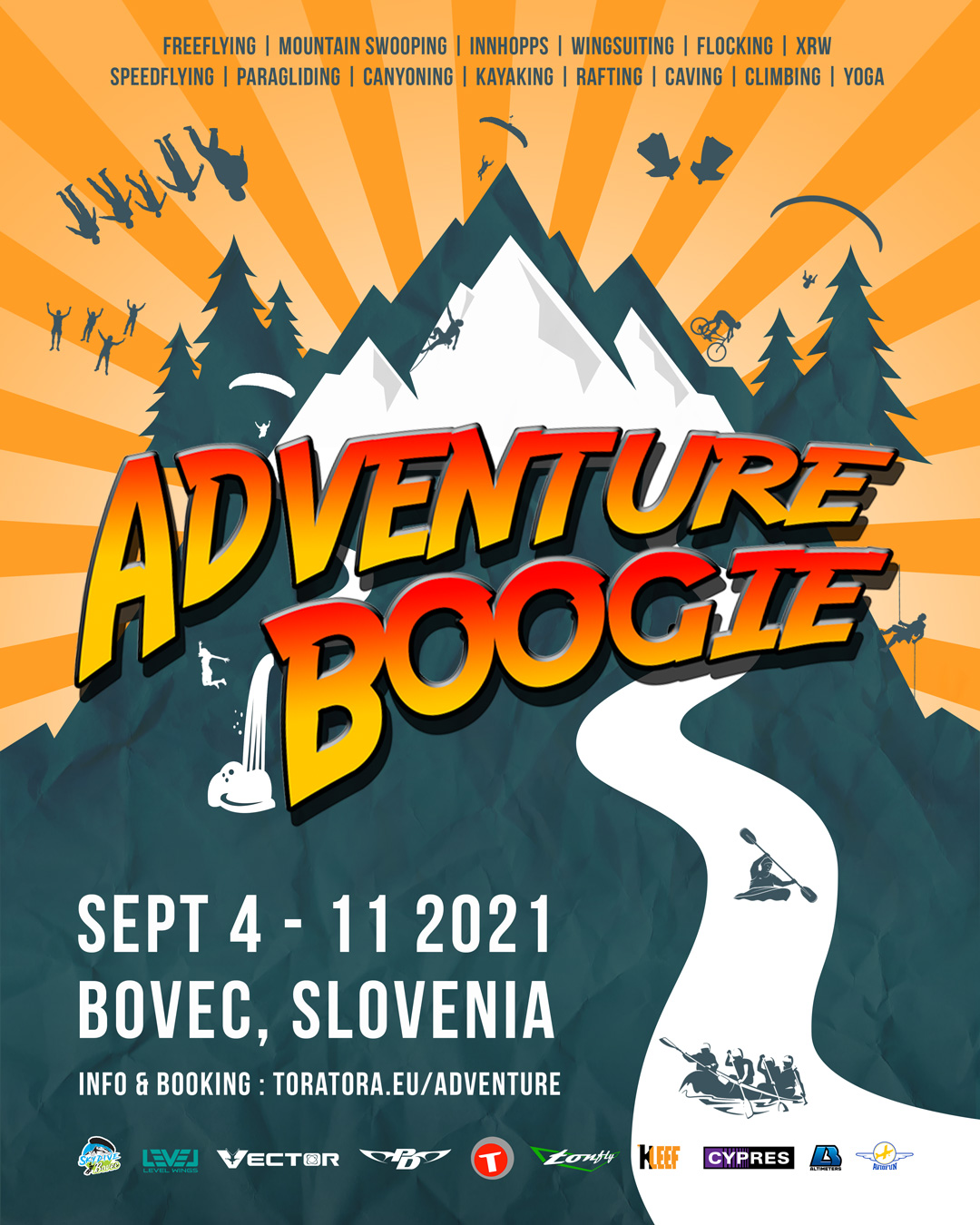 Adventure Boogie 2021
Bovec, Slovenia
List of activities
There are many different activities to choose from. These can be every day activities, every few days or only once. For most of these you can sign up at the boogie desk after arrival, for some you'll need to sign up on forehand (you'll get an email about that).
Innhops
every few days / sign up at the boogie desk
Even Rokne and Petter Stensvold organise magical "innhopps" around Bovec. An innhopp is a jump into an unknown landing area. These are jumps you won't easily forget. During the week we organise three Boogie Nights, where you can jump into (or take the bus). These evenings include a meal, a video, a party and a bus ride back.
Mountain Swooping
every day (weather dependent) / sign up at the boogie desk
Everyone with 500+ jumps can join mountain swooping. You'll have to attend the mountain swoop safety briefing for that particular run. We always fly in small groups with a guide. The price for mountain swooping is 2 Adventure Tickets per jump (includes guide, ground crew and return transport).
Speedflying
sign up on forehand via email
Level Wings is coming to Bovec, bringing demo wings and instructors!
– Guiding and coaching for intermediate and advanced speedflyers (you need to be able to take off and land by yourself). Price: 8 Adventure Tickets for 3 days throughout the week. Including gear.
– One-day introduction for beginners (theory, gear and groundhandling). Price 1 Adventure Ticket.
Paragliding
sign up on forehand via email
We offer an intermediate course and advanced coaching (flying in thermals). Minimum requirements: have flown in the mountains before, able to start without help, bring your own equipment.
Yoga
every few days / sign up at the boogie desk
Our local teacher Lindsey takes you to magical places for Mountain Top Yoga, SUP Yoga or Moonlight Meditation.
Slackline
one time / sign up at the boogie desk
We organise one day of epic slacklining in Log Pod Mangartom with tunes and drinks. We'll have an instructor on site to give some demos and help you to the next level. Suitable for all.
Caving
every few days / sign up at the boogie desk
Some find it scary and you will get dirty. But it's also an experience you will remember, and the world feels a little different when you come back into daylight.
Kayaking
every few days / sign up at the boogie desk
The green-blue Soča river is famous for it's kayaking. We offer beginner and intermediate instruction, and guiding for experienced paddlers.
Canyoning
every few days / sign up at the boogie desk
Follow a river down its gorge, walking, sliding, swimming and rappelling down waterfalls and natural chutes, while captured between large rock faces on each side of the canyon. A must try at Adventure Boogie!
Rafting
every few days / sign up at the boogie desk
Rafting is a very easy and social way to enjoy whitewater sections of the Soča river. No experience needed. Just sit, paddle and enjoy. And maybe swim. We're planning a special rafting day on the last Saturday, great for a hangover day.
Zipline
every few days / sign up at the boogie desk
Descending almost a kilometer of altitude via several long wire ropes with speeds of 60 km/u and stunning views. Family friendly.
The full week program will be shared online before the event starts. Participants will receive an email about the special sign up activities like paragliding and speedflying.
Special adventures with Meeting Mountains
Special adventures at Adventure Boogie
Want to start Adventure Boogie off with something special?
Sign up for Wine & Cuisine in Slovenian Wine Region.

Or how about a truely special mountain experience? Join the Tour de Soča Valley – a two days guided hike-sleep-bike adventure previously unseen at Adventure Boogie!
To offer even more diversity in activities this year, Johannes Bergfors organises and guides these tours for us. He lives in Bovec and runs a tourist agency called Meeting Mountains, which helps visitors experience more in the Soča Valley. You might know Johannes as a coach and videographer from previous Adventure Boogies or our other events.
Sign up
Sign up here. Both tours have limited slots available.
Wine & Cuisine in Slovenian Wine Region
Goriška Brda is Slovenias Tuscany. In this circular mountainbike tour, over rolling hills and between grape vines and fruit trees, we enjoy a wine tasting, olive oil tasting and lunch at the area's best seafood restaurant overlooking the vineyards. Saturday 4 Sept. Price: 5 Adventure tickets (150€).

Tour de Soča Valley
Hike up to a mountain hut and spend the night there. The following day you walk down to the valley where mountain bikes wait for you to tour them back to Bovec – passing beautiful Slovenian nature and genuine architecture, cuisine and culture.
When?
Monday 6 Sept. We leave at 12:00 from the DZ and come back Tuesday 15-16.00. If you have a mini skills camp booked starting on Sunday, you can request to move that to Wednesday in stead.
How?
Day 1: Put on your hiking shoes and enjoy a beautiful path in the Triglav National Park for about 1100 vertical metres (about 3 hours) to a picturesque mountain hut. We enjoy a traditional Slovenian meal together, watch the sunset and then spend the night in the mountain hut.
Day 2: Wake up at sunrise, have breakfast and walk down to the valley floor where mountain bikes are waiting. The bike ride back to Bovec is 28 km but almost all of it downhill (we'll take 3-4 hours for this). The first part of the trail is on the paved road, then continues on smaller forest roads next to the river. It's a very beautiful trail, passing by the source of the Soča river and many culturally interesting points. Halfway we stop for lunch with grilled trout from the Soča River and apple strudel. 
Price
5 Adventure tickets (150€) including transportation, bike rental, dinner/breakfast/lunch, accommodation and guiding. Not including drinks.
Other details
It will be a physically demanding trip. It's weather dependent, although you should be prepared to walk in some rain.
Imagine spending a week in magical mountains, where each morning you can choose to spend your day skydiving, or try out one of many other exciting mountain sports under professional guidance…
This is an event where you can do exactly that. You get to enjoy the spectacular Slovenian landscape from the sky, from the water or underground. You can challenge yourself physically and mentally in many different ways. Or you can just come play with our top skydive coaches. Your choice. And the best thing: you'll have a magical week in any type of weather.
We have two planes (PC-6) available this year and registrations are  limited.
Can I join?
The event is open to anyone. This year, skydivers will still make up the largest part of the event (freeflyers, wingsuiters, canopy pilots or other) but mountain bikers, kayakers, canyoneers, cavers, paragliders, speedflyers and nature lovers are also very welcome.
If you want to come skydiving, you need to have a skydiving license and be signed off to jump with other people. For most of the other sports, no minimum level is required. To join a mini skills camp (see below), you need to be able to safely join a group of four skydivers. For mountain swooping you need minimum 500 jumps.
How does it work?
The idea of this event is that you come to practice your own sport or passion, with the opportunity to try out or learn others. Whether you're skydiver that wants to try canyoning, or a mountain biker that wants to learn kayaking, this is your event.
When you sign up, you pay a basic registration fee ("skydiver" or "non-skydiver") which includes a certain amount of Adventure Tickets. During the event you can buy as many extra Adventure Tickets as you like for 30€ each. These tickets function as event currency and can be used for skydives (1 ticket to 4000m, only in combination with a SKYDIVER package) and other activities like kayaking, canyoning or a yoga class on a mountain top. For example, on Tuesday morning you go venture deep into the canyons of the Soca valley, descending with ropes and jumping off waterfalls, and then you come back to the DZ around midday for a couple of jumps over a beautiful mountain scenery. For most sports and activities you can sign up on site. Sometimes we have a special course or adventure for which you need to sign up beforehand. We'll inform you about that via email.
Registration & cost
You sign up with the registration form on this page (coming soon).
Every participant pays a basic registration fee.
SKYDIVER – 675 euro
including:
basic registration
access to all activities including skydiving
10 Adventure Tickets
3 Boogie Nights with dinner and transport

NON-SKYDIVER – 250 euro
basic registration
access to all activities excluding skydiving
5 Adventure Tickets
3 Boogie Nights with dinner and transport
A few days after you fill out the registration form, you will receive a confirmation email with a request to pay your registration fee. Once we receive that payment, your slot is secured. You will have 10 days for payment. Any remaining amount can be paid before or at arrival in Bovec. Extra Adventure Tickets can be bought on site for 30€ each. They are refundable until 11 September 2021. We accept wire transfer, cryptocurrency, cash and card payments (2% card fee).
The complete outdoor program will be announced later, but we can promise you this:
– all mountain sports are guided by professional instructors or guides
– most activities are for a half day, morning or afternoon
– the price for an activity is usually around 1 or 2 adventure tickets, depending on duration
– there will be lists at the DZ where you can sign up for activities every day
– you decide your own skydive/outdoor adventure mix – only skydiving or only mountain sports is also possible
– with most of these mountain sports, you experience the world slightly differently when you return
The location
Slovenia is a spectacular country, in some ways comparable to the landscape of Norway, Switzerland or New Zealand. The Soca valley is one of the most beautiful areas in the country, and on top of that, it has a dropzone right in the center of it!
The airfield is situated next to the mountain village Bovec, in a green valley bordering the Triglav National Park. It's surrounded by mountain peaks and right through the middle of it all runs the clear turquoise colored Soca river, famed for its world class kayaking and rafting possibilities. The village is a lively outdoor sports town with plenty of little restaurants, where a drink is still affordable.
Accommodation
Accommodation is not included. There are several affordable sleeping options. The cheapest one is the nearby campsite (Kamp Polovnik – 8€/night), at five minutes walking from the DZ. Through booking.com or Airbnb you will find apartments and hostels all over town. One of the most beautiful places to stay is here, at 10 min drive from the DZ.
Getting there
You can fly into Ljubljana (1h45 from Bovec) or Venice (2h30 from Bovec) and rent a car or take a bus. You can also take a train to Most na Soci and a bus to Bovec from there or ask someone to pick you up. You can find information on bus schedules here.
Skydiving and coaching
For dedicated coaching and high quality jumps we offer a mini freefly skills camp, which you pay for on top of your basic registration fee. You sign up for 12 jumps over 2 or 3 days in a small group of 4 or 5 participants. We will try to find the perfect group for you, and if you come with a few friends you may book a private coach. Besides that, we also offer 1-on-1 coaching. Both can be reserved through the registration form.
There will also be an LO around to scramble lost people and organise a jump here and there. However, they will not have time to jump with everyone so you should not expect a coach to organise your jumps unless you book a mini skills camp.
Coaches confirmed
Floris Drevel
Hannah Parker
Martijn van Dam
Matt Leonard
René Terstegen
Roy Wimmer-Jaglom
Vincent Cotte
Yvonne Wiggers
Mini freefly skills camp – 625 euro
12 jumps in a group of 4 or 5 participants with dedicated coach starting Sunday or Wednesday.
Suitable for relative newbies and absolute ninja's. Minimum requirement in head up: being able to safely join a 4-way head up jump. That means you need to stay in head up for a full jump, be able to increase and decrease fall rate and move forward and backward.
Minimum requirement in track/angle: being able to safely join a 4-way track or angle jump. That means you need to hold your position for a full jump and be able to increase and decrease forward speed and adjust your angle to match the group.
Mini wingsuit skills camp – 625 euro
If there is enough interest and matching skill level, we can form a few wingsuit groups.
1-on-1 coaching
15 Adventure Tickets for 5 jumps all inclusive.
To reserve your slot you need to pay a non refundable registration fee and agree to our GENERAL BOOKING CONDITIONS which you can find here.
Covid-19 guidelines
Slovenia has opened it's borders to tourism and visitors from many countries can enter the country unrestricted. Most visitors will need to show a negative corona test, proof of vaccination or proof of recovery from covid-19. For visitors from a few regions there is still a mandatory quarantine period upon entry. We're hoping that this list will shorten between now and September. To find out which rules currently apply to your situation, you can visit this website.
If you need a negative corona test for your return home, you can get one right in Bovec. You can find info on times and locations here.
In case of cancellation related to the covid-19 pandemic, special conditions apply, which you can find in our booking conditions.
If ToraTora needs to cancel the event or your participation, you will always get a full refund.