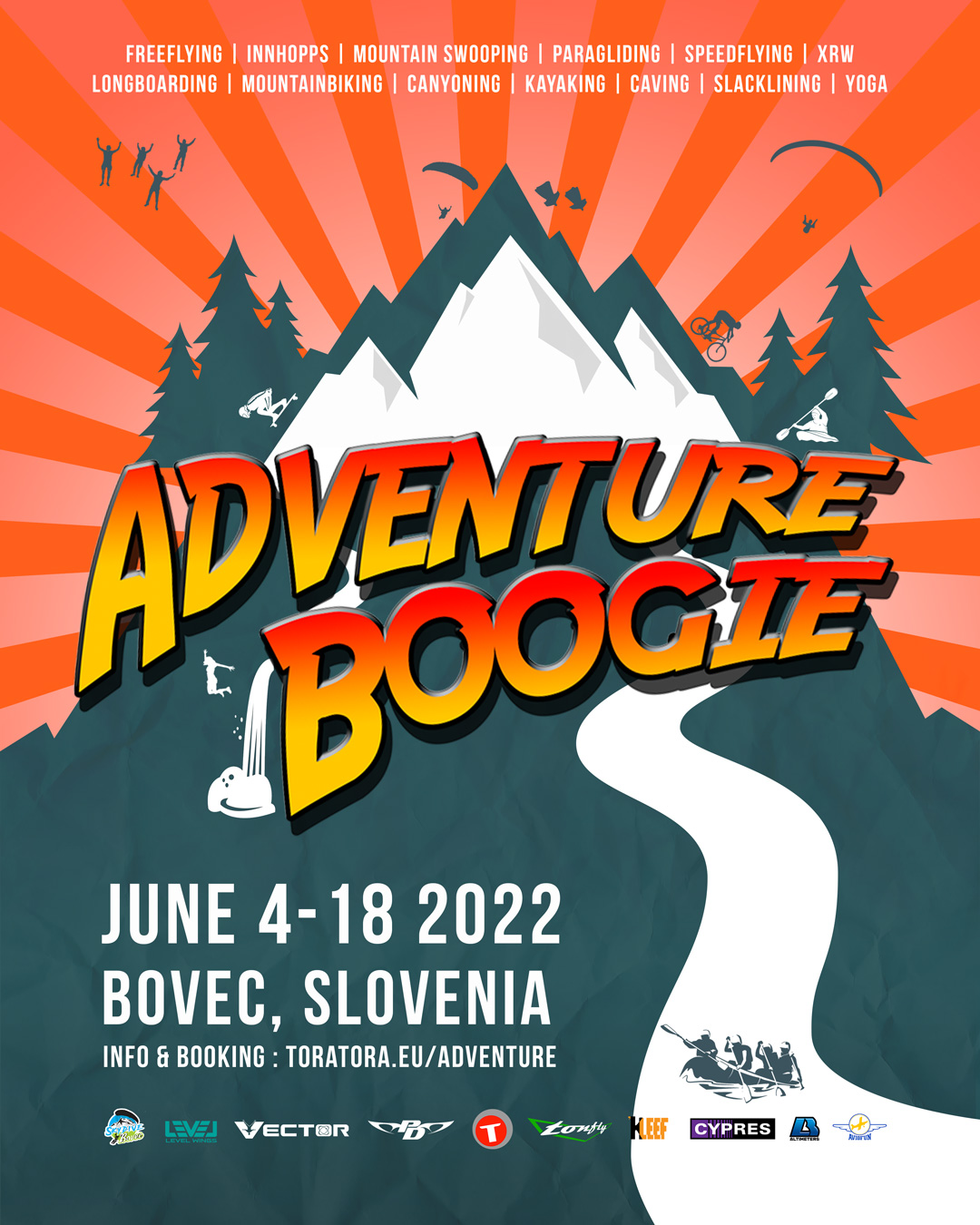 Adventure Boogie
June 4-18 2022
Bovec, Slovenia
The dates for the 2022 edition are confirmed and for the first time the event will last for two weeks! Registration opens on February 10th. Sign up for our mailinglist to get notified. If you have questions, you can contact us at adventure@toratora.eu.
Imagine spending a week in magical mountains, where each morning you can choose to spend your day skydiving, paragliding, speedflying or try out some of the other exciting mountain sports under professional guidance…
This is an event where you can do exactly that. You get to enjoy the spectacular Slovenian landscape from the sky and from the water, from mountain tops, caves and canyons. You can challenge yourself physically and mentally in many different ways. Or you can just come play with our top skydive coaches. Your choice. And the best thing: you'll have a magical week in any type of weather.
Registrations are limited and based on first-come-first-serve.
Can I join?
Anyone is welcome, whether you're a freeflyer, mountain biker, kayaker, canyoneer, speleologist, paraglider, speedflyer, wingsuiter, canopy pilot or just a nature lover. If you have any doubts if this event is for you, you can always send us a message to find out (the answer is probably yes).
For most of these sports, no minimum level is required. For mountain swooping you need at least 500 skydives. For speedflying and paragliding you will need some experience, more info on that coming soon.
How does it work?
The idea of this event is that you come to practice your own sport or passion, with the opportunity to try out or learn others. Whether you're skydiver that wants to try canyoning, or a longboarder that wants to learn freediving, this is your event.
When you sign up, you pay a basic registration fee which includes some Adventure Tickets. These tickets function as event currency and can be used to take part in activities, workshops and courses. For most one day activities you can sign up on site. For longer trips and multi-day courses you need to reserve beforehand.
Registration & cost
You sign up with the registration form which you can find here once registration is open.
After you submit the form, you receive a confirmation email with a request to pay your registration fee. You will have 10 days for payment. Once we receive that payment, your slot is secured. Any remaining amount can be paid just before or at arrival in Bovec. Extra Adventure Tickets can be bought on site. We accept bank transfer, cryptocurrency, cash and card payments (2% card fee).
The location
Slovenia is a spectacular country, in some ways comparable to the landscape of Norway, Switzerland and New Zealand. The Soca valley is one of the most beautiful areas in the country with the charming mountain village of Bovec sitting right on the border of the Triglav National Park. It's surrounded by mountain peaks and right through the middle of it all runs the clear turquoise coloured Soca river, famed for its world class kayaking. The village is a lively outdoor sports town with plenty of little restaurants, where a dinner is still affordable.
Accommodation
Info for 2022 coming soon.
Getting there
You can drive there or take a train to Most na Soci and then a bus to Bovec. Or a train to Villach and ask someone to come pick you up. A bit closer to the event we will launch a ridesharing page and you can find information on bus schedules here. You can also fly into Ljubljana (1h45 from Bovec) or Venice (2h30 from Bovec) and rent a car.
To reserve your slot you need to pay a non refundable registration fee and agree to our GENERAL BOOKING CONDITIONS which you can find here.
Special adventures with Meeting Mountains
Special adventures at Adventure Boogie
Johannes Bergfors lives in Bovec and runs a tourist agency called Meeting Mountains, which helps visitors experience more in the Soča Valley. You might know Johannes as a coach and videographer from previous Adventure Boogies or our other events. For Adventure Boogie, Meeting Mountains organises special tours, for which you will need to sign up on forehand. First come first serve. More info coming soon.
List of activities
Planned activities for 2022:
more info per activity coming soon
Canyoning
Caving
Cold water / breathwork (new in 2022)
Downhill longboarding (new in 2022)
Freediving
Hydrospeed
Innhopps
Kayaking
Mountain Swooping
Paragliding
Rafting
Rockclimbing
Skydiving
Skydiving – AFF course (new in 2022)
Slackline / highline (new in 2022)
Speedflying
Wingsuit / XRW
Yoga
Zipline
Impressions of previous editions: