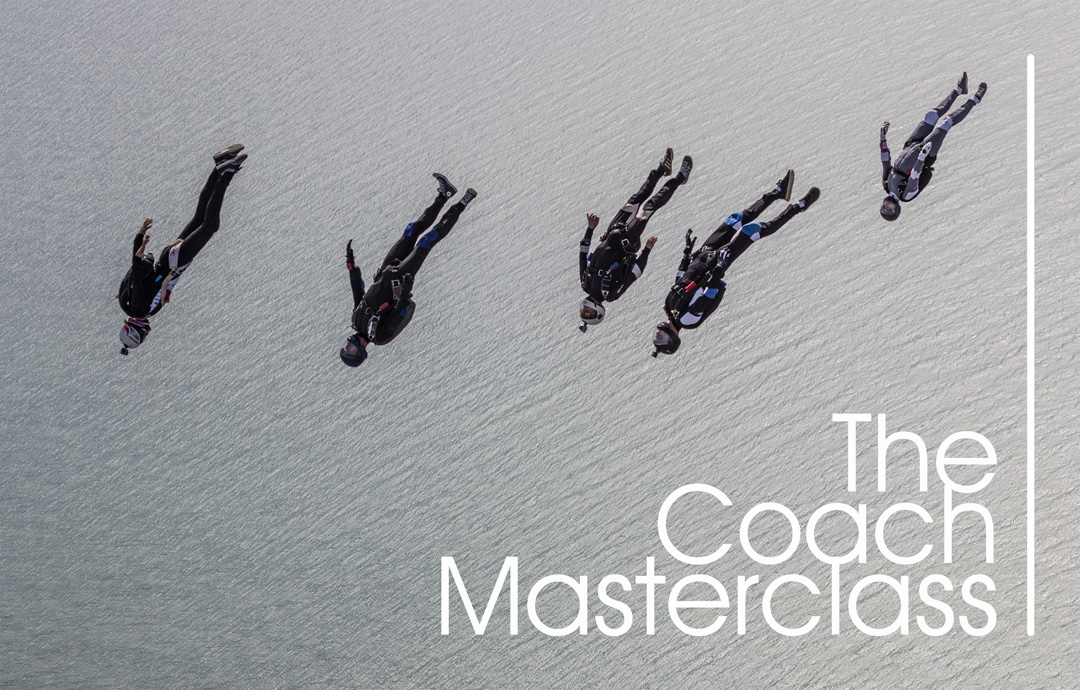 The
Freefly
Coach
Workshop

For beginning, intermediate and advanced freefly coaches.
Level I: 27 September – 4 October 2020
Level II: 4 October – 9 October
Skydive Algarve, Portugal
For updates get on our mailinglist
Based on the feedback from our team of coaches, we have realised that it's time to start educating the educators, teaching the teachers, coaching the coaches. To this end, we have created The Freefly Coach Workshop.
Why?
Due to easy access to flight progression through windtunnels, and general growth of the sport of freeflying, many new skilled athletes are entering the scene, keen to start teaching. They might not have several thousand jumps of practical experience and many years of witnessing all that can happen on a dropzone. However, they often do have the right attitude towards learning. It is in part they who have asked us to come up with this workshop.
Can I join?
It is a misunderstanding that this workshop is only meant for people who are just beginning to coach. If you have already been coaching or load organising for a while and you want to invest in your career by learning from the best, this is your chance. People with no coaching or LO experience are also welcome. We'll soon release more information on how the Level I & Level II modules come into play here. We do have some minimum flying skill requirements: you need to be proficient in head up, head down and angle flying. You should easily be able to find your way around the sky in these positions. You'll be focussing on others, safety, navigation and teaching in freefall, so your own flying should go without too much thinking. If you have doubts about your level, let us know and we'll have a chat about it.
The workshop
The workshop consists of five and a half days of intensive learning in a group with two of your peers, guided by top-level professional freefly coaches who have decades of experience. The week includes both practical and theoretical elements in which we cover all of the essentials that make up the safe practice of freefly coaching and load organising. The goal is to boost your progression as a coach by directly tapping into the source of decades of experience. New this year will be a Level I and Level II workshop. More information on that soon. 
Practical:
During the first part of the week, we practice leading contemporary basic & intermediate level organised jumps in all orientations and learn about their pitfalls, progression, and smart variations. We cover topics like in-air communication, basic flying techniques and how to recognise and correct mistakes. In the second part of the week, you get to organise high-level freefly jumps for and with your peers. You can experiment with various kinds of jump ideas while being guided and inspired by your coach. Navigating more complicated flight patterns will also be covered.
Theoretical:
The classes include topics like didactics, group assessment, safety, navigation and lots more.

What, where, when?
The next edition of the Freefly Coach Workshop will take place during Paradise Portugal at Skydive Algarve.
Level I coach workshop: 27 Sept – 4 Oct
Level II coach workshop: 4 – 9 Oct
Both modules include attendance at the conference day on Sunday, Oct 4 in Portimao – a full day of inspiring talks by world leaders in our industry.
Who is teaching?
Will Penny
Domi Kiger
René Terstegen
Jasper van der Meer
We invite guest teachers for some of the modules. More teachers to be announced depending on number of participants.
Sunday 4 October – Life as a Pro conference day
This is included in the workshop. A full day of inspirational talks by world leaders in skydiving about life as a pro skydiver, covering a wide range of subjects like the value of experience, social ethics, the teacher's role and entertainment in the sport. Including break time activities and a lunch.
Certificate
After successful completion of the Freefly Coach Workshop you will get a certificate to prove it. As we roll out more Coach Workshops in the future, this will most likely become a valuable certificate with international recognition.
Pricing
Pricing for 2020 is not yet confirmed. The package includes hotel, shared rental car / airport pickup, all coaching and classes and group jumps. It also includes your entry to the conference day on Oct 4.
Questions
If you have any questions about this workshop, don't hesitate to ask them per email or via our contact form.
Class of 2019: